Featured Item In The September 2006 M-U-M Magazine
Click Here To Read The Entire M-U-M Article In PDF Format

This is a display made of solid oak and with a heavy brass plate and brass label.

The lettering on it is raised, and says...
'Friend To Friend'
'Hail My Old Friend Harry Kellar, The Mystic,
I Send You Greetings To The Spirit Land,
I Shake Your Hand In Masonic Friendship And
Gaze Into Your Eyes With Affectionate Greetings;
I See Your Smile And Hear Your Voice And Feel
Your Masterly Presence, I Recall Your
Your Struggles, Your Joys And Your Tears And Send To
You The Love That Was Matured In Years.
Hail! Old Friend Harry, Citizen Of The World,
Born Of Humble Parents, Hammered By Many
Restraints, Inflamed With A Desire To Conquer,
Inspired With A Zeal That Knew No Fear,
Your Name Will Ever Linger In Our Hearts Back Here'

Thurston's signature in brass script across the bottom.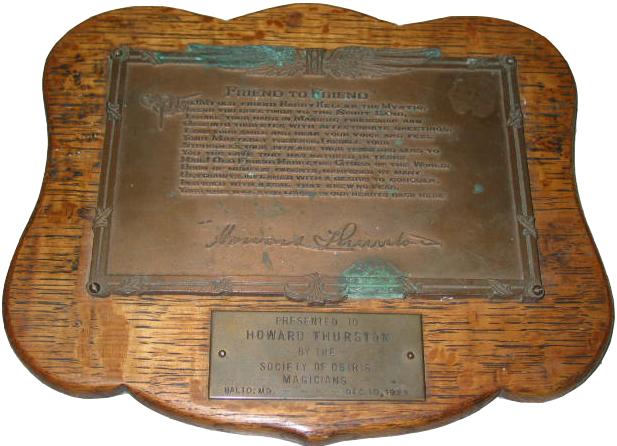 Howard Thurston was a Master Mason and that is why there is a Masonic reference on this display.
The label under the larger brass piece is engraved:
'Presented to Howard Thurston by the Society of Osiris Magicians Balto. MD. Dec. 10, 1923'
The oak measures 9.5 inches wide by almost 8 inches high.
The main display measures 7" wide by 4.5" high.
The smaller brass plate is 3" x 1.2".
Kellar died in March of 1922, so this display was a tribute to Kellar written by Thurston, and cast in bronze by the Society of Osiris Magicians of Baltimore Maryland.
This display was actually Presented to Howard Thurston on Dec 10, 1923, according to the display.

The Original Display Is In The Rory Feldman Collection (TRFC)
Copyright 2006 Rory Feldman Productions
Images Of This Display & The Text Written On The Display Are From The TRFC And Cannot Be Used, Duplicated, Reproduced, Manipulated, Posted, Copied, Distributed In Printed Or Electronic Form Without Prior Written Permission From The Owner /Creator Of www.ThurstonMasterMagician.com