Help the Green Lawn Abbey Mausoleum in Columbus, Ohio, where
Howard Thurston has been laid to rest.

We are raising money for many needed things to be done to the Mausoleum, (i.e. alarm/security system, repair, upkeep, as well as many other things.)
If you would like to donate money, you can make a donation to this fund by going to www.GreenLawnAbbey.com.

Please donate as little or as much as you can to this great cause.

We At www.ThurstonMasterMagician.com, www.GreenLawnAbbey.com, and www.ColumbusLandmarks.org Thank You for donating!

If you would like to read the pamphlet on Thurston's Tomb in a PDF file, please CLICK HERE.
This brochure was just handed out at the 2005 Magic History Conference in Hollywood, California and the 75th Annual Columbus Magi-Fest in Columbus, Ohio.

If you have any questions, comments, please email us at RoryFeldmanMagic@aol.com.

Information About The Columbus Landmarks Foundation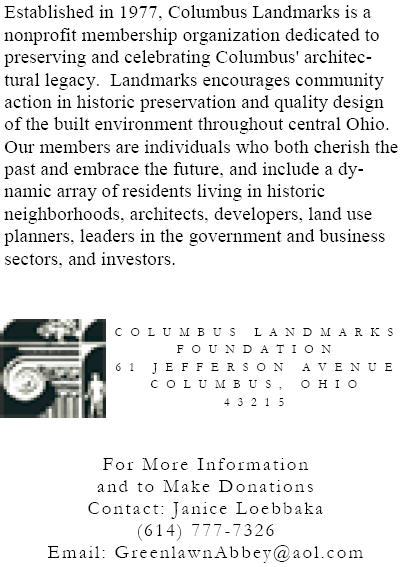 To Contact Janice Loebbaka, please email her at GreenLawnAbbey@aol.com